Why Hire A Professional Painter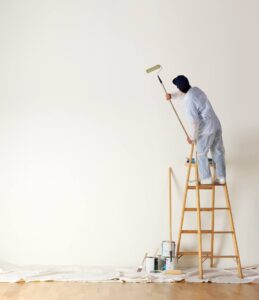 Two-thirds of homeowners who attempted do-it-yourself home modifications regret doing so and risk injury. The most unpleasant jobs are painting, installing tiling, and installing hardwood floors.
If you're like most homeowners, you get the impulse to renovate your home as soon as spring begins to show its face. A dingy, worn-out-looking space benefits greatly from a fresh coat of paint.
Why not engage experienced painters to complete the work correctly rather than taking on the assignment yourself? It's a smart move for a multitude of reasons. This article lists seven significant benefits of skipping painting as your next do-it-yourself job.
Most Important: Safety. Even a 3 Foot Ladder can present serious hazards and fall injuries to someone inexperienced trying to balance a brush or roller, a paint bucket or tray and themselves!
1. Professional Painters have the necessary experience to prep the walls properly and avoid painting jobs that chip at the slightest touch within just a few months
2. They do the daily set up, specific prep and clean up
3. Painters can share the latest trends in colors saving you money in paying additional dollars to Color Specialists and Interior Designers
4. They Know Their Paint Products and will suggest the right product for your walls' specific needs
5. Professionals Bring the Right Tools saving you additional expenses in brushes, rollers, mats, ladders
6. The Gift of Time, you can be on vacation and come back to a beautifully updated home
7. Painters are insured and the owner will not be held liable should injury of the painters happen while working on your home project.
As you can see, using expert painters has several benefits. It's worth paying whether you appreciate the experience they provide, the time they can save you, or the peace of mind they allow you to experience as a result of a job well done!